Scott Blaine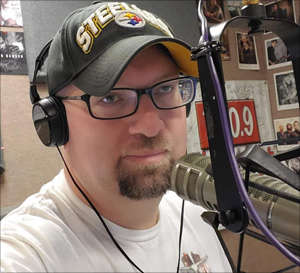 I started in radio back in 1999 where I spent a year in Rutland. I came to Capital Region radio in 2000 and have been with The Cat since 2012. I am lifelong Upstate New Yorker, born and raised in Burnt Hills. I'm a 1994 Graduate of BH-BL High School and a 1999 Graduate of the New School of Radio and Television.
I currently live in Niskayuna, NY with my beautiful wife Robin and our "baby girl", our dog Tessie.
Favorites
Singer/Band – Garth Brooks, Luke Combs, Brantley Gilbert, Big & Rich
Movie – Major League
Actor/Actress – Arnold Schwarzenegger and Reese Witherspoon (we share the same birthday)
Book – Have a Nice Day by Mick Foley
Sport – Football, I'm a Die Hard Steelers fan.
TV – The Walking Dead Franchise, The Mandalorian and any wrestling show.
Holiday – I absolutely love Christmas!!!
Food – Pizza, Steak and Lobster
Restaurant – Texas Roadhouse
Shopping – I shop mainly online
Pets – I love my dog Tessie!
Cereal – Raisin Bran Crunch
Smell – Coffee brewing first thing in the morning
Lunch Meat – Rare Roast Beef
Bungee Jump? – I haven't but I've jumped out of an airplane twice, so I would
Pet Peeves – People on Social Media who are always negative.