Pete Kelly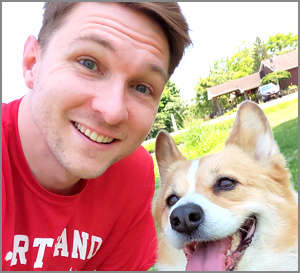 I'm here to add some fun to your day! We'll play Road Warrior Trivia at 5pm, discover new music with the New @ 2, solve dilemmas and more!
Follow me for photos of my dog Lily, my frustrations with the NY Jets, events and more! I'm on Instagram Stories the most, followed by TikTok's fyp
Today's Discussion
Favorites
Singer/Band – Old Dominion, Luke Combs, HARDY, Eric Church, Kane Brown…
Outside of country — Tame Impala, Foster The People, Justin Timberlake, Beck, Calvin Harris, Foals, Twenty One Pilots
Movie – Anchorman, The Truman Show, Eternal Sunshine of the Spotless Mind, and pretty much anything that has Will Ferrell in it.
Actor/Actress – Jason Sudeikis, Jennifer Lawrence, Will Ferrell, Steve Carell
Book – The Hunger Games (series)
Sport – Formula 1 or NFL. I'm a huge Jets fan, and sometimes I wonder why I still am!
TV – The Office, Big Brother, How I Met Your Mother, Flaked, Seinfeld, Parks and Recreation, 24, Arrested Development
Holiday – Thanksgiving! Super underrated and needs to be celebrated multiple times a year.
Food – Cheese Curds, Corned Beef & Cabbage or Chicken Parm
Restaurant – Philly's in Latham, Druthers for their Mac & Cheese, Peddlers in Clifton Park for their patio & Al Bruno!
Shopping – I love getting good deals, so I'm always checking out yard sales, Goodwill & The Salvation Army!
Pets – I'm a huge dog guy and I have a 6 year old corgi named Lily! She's in my photo above. I actually found her by mentioning on-air that I was looking for a dog and the rest is history!
Cereal – I know it's weird but I like cereal as dessert. Give me a bowl of Cheerios, Special K or Cinnamon Toast Crunch while I'm watching TV and I'm good to go.
Smell – Fresh rain, exhaust at the track and food when I'm starving.
Lunch Meat – Low-sodium turkey so I can pretend I'm eating healthy, or pastrami
Bungee Jump? – I don't know how many beers it'd take to make me agree to that, but it's possible.
Pet Peeves – When people don't use their blinkers, pass you on the right, cut you off and/or don't look before they turn… even though I probably do half those things.